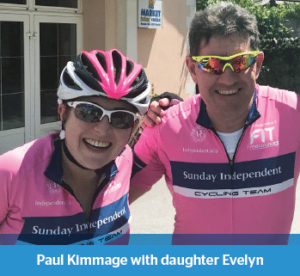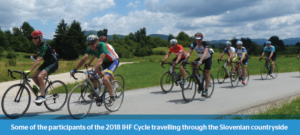 For the fourth time, sports journalist and former professional cyclist, Paul Kimmage has taken part in the IHF Cycle in support of Nurses for Night Care.
"It's a very noble cause," says Paul. "Everybody knows somebody, whether it's family or friends, who've had an experience where they've needed Nurses for Night Care."
This year, 73 people cycled 560km from Portoroz in Slovenia to Treviso in Italy. Many of the riders returned from previous IHF Cycles, which have raised €1.8 million for the IHF since 2009, equating to 45,000 hours of night care.
"Many of the guys are personally invested in it through direct experience. Whether it was a brother or a mother or whoever, they'd seen how valuable the Nurses for Night Care service was during that time."
For Paul, it's his contribution towards those affected by end of life that has kept him coming back each year.
"Journalism is a very self-centered, absorbing business. Professional cycling was the same, where all you ever thought about was yourself. This is for somebody else, and that's rewarding and is a nice change."
For the past two years, the IHF Cycle has been a family affair for Paul, with his daughter, Evelyn, joining him.
"She's been a great addition to the event and it means a lot to have her there with me. Knowing that we are supporting families through tough times is very important to us."
For information on the 2019 IHF Cycle, please contact Louise on 01 679 3188 or email [email protected]
This event could not take place without the generosity of our sponsors, Kingspan.