Rosabel's legacy threw them a vital lifeline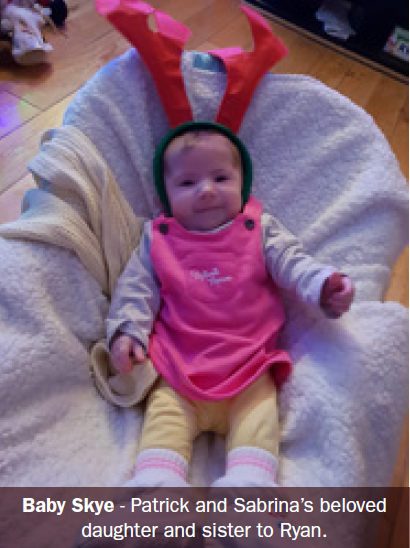 At five months old most babies are sitting up, smiling brightly, enjoying their first taste of solid food. Their exhausted parents taking delight in their every giggle and smallest milestone. But for Sabrina it was a very different story. Her precious little girl died just five short months after birth.
Skye's death was very unexpected. She had an underlying cardiac condition and was having treatment in Our Lady's Children's Hospital in Crumlin. And then, just before Christmas, Sabrina's beautiful baby girl was gone. "My mind and my emotions were everywhere. I was just so upset. All I wanted to do was go with my little angel on a cloud," she said.
The death of a child is harrowing. A loss of a life so young brings unimaginable pain, an aching void that can't be filled. As well as the emotional, psychological and physical distress, the death of a child can also place other strains on the family. In Sabrina's case, her family experienced significant financial stress in the aftermath of Skye's death. Sabrina lost her Carer's Allowance which she had been in receipt of while caring for Skye. Her husband Patrick also needed to take an extended period of time off work to cope with the tragedy.
"We didn't know what to do or who to turn to. We weren't going to be able to pay our mortgage or our bills. My head was all over the place with worry," she said.
It was the staff at Temple Street Children's Hospital who introduced Sabrina to Rosabel's Rooms, the child loss project working in partnership with us here at the Irish Hospice Foundation, providing support to grieving parents and families all over Ireland.
It was named after Rosabel Monroe who died in her cot at her Galway home in April 2017. She was just 16 months old. Following her sudden death, her parents Suzanne McClean and Gary Monroe began their collaboration with the Irish Hospice Foundation.
Since July 2018, Rosabel's Rooms has supported numerous families across the country to cope with the death of a child. One of the strands of the project is Rosabel's Room-to-Heal Fund which provides financial support to help parents take much needed time off work, to pay for funeral costs and more.
"The Fund helped me, my husband and my son Ryan so much," said Sabrina. "To know one of my worries was sorted really made such a big difference. Only parents who have lost a child know the heartache and the worries we are going through. Rosabel would be so proud of her mum and dad for the incredible work they are doing in her name."
Through our Design & Dignity Programme, Rosabel's Rooms is also developing family-friendly bereavement suites in Emergency Departments around Ireland. The Rosabel's Room to Talk Fund will ensure therapeutic supports are made available to anyone impacted by child loss in Ireland.