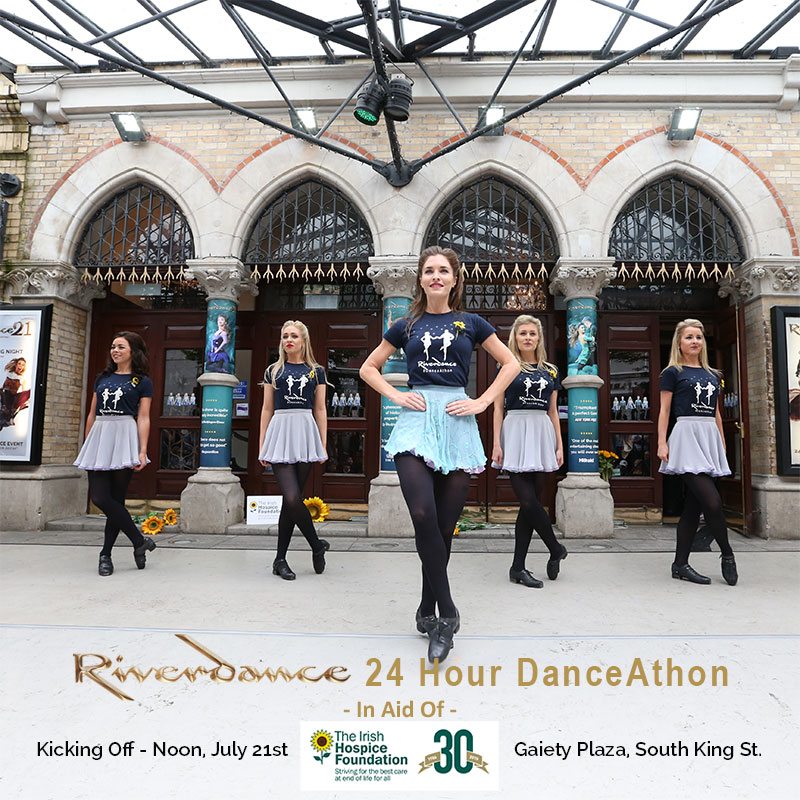 The curtain falls on the first 24 Hour DanceAthon ever hosted by Riverdance
in aid of The Irish Hospice Foundation
Friday 22nd July at 12 noon, after 24 hours of continuous dance, the first 24 Hour DanceAthon ever hosted by Riverdance came to a triumphant close. This dance marathon was undertaken to raise awareness and funds for the vital work of The Irish Hospice Foundation (IHF). The charity (IHF) supplies vital 24 hour care and this 24 hours of Irish dance was undertaken to highlight their round the clock work. Over €10,000 was raised for The IHF's Nurses for Night Care Service which enables people to die in comfort and dignity in their own home.
The DanceAthon outside the Gaiety theatre, began at 12 noon Thursday 21 July, when it was kicked off by members of the Riverdance troupe performing on the plaza.
A special performance area had been built outside the theatre and over the next 24 hours Riverdancers from the show and dancers from a number of dance schools around the country took to the outdoor stage for charity. Early morning risers were also given the chance to join Riverdance dancers for their morning fitness regime when members of the troupe worked out on the Gaiety plaza from 6am-8am Friday morning.
Volunteers from the Irish Hospice Foundation were there throughout the day and night to encourage passers by to join in the dance (which many did!) and to collect donations. Those unable to get to the Gaiety could watch updates from the event as it unfolded on line using the hashtags #Riverdance #DanceAthon and donate online
The producers of Riverdance sent their thanks to all the dancers who took part and to the support team at the Gaiety Theatre who played such a key role during the 24 hours.
Sharon Foley, CEO, The Irish Hospice Foundation said: "What an incredibly special 24 hours of Irish dance. We are blown away by Riverdance, the public support and help from everyone who made the DanceAthon a reality. Our heartfelt thanks for the wonderful donations. Every euro goes directly to our Nurses for Night Care service which allows more people to be cared for in the comfort of their home at end of life. This gives more families more choices. As demand for the service grows annually I am extremely grateful to Riverdance for hosting the DanceAthon and choosing The IHF."
Though the 24 Hour DanceAthon is over the dance continues on the Gaiety Theatre stage throughout the summer. Riverdance has returned home to Dublin to celebrate its 21st anniversary and the show runs at the Gaiety Theatre until 4th September.
Thank you also to KC Peaches, Jump Juice Bar, Base Pizza, Butlers Café, Wagamama and The Card Gallery for their support of the DanceAthon.