SIX hundred people with diseases other than cancer who were approaching death last year had their wish to die at home fulfilled with the support of Nurses for Night Care.
The nationwide service supported by the Irish Hospice Foundation through donations from the public provides free night nursing care to people in their own home. Nurses stay throughout the night providing comfort and practical support to patients and their families.
Retired pharmacist and mother of five Mona O'Riordan died peacefully at home with her daughter Aine by her side. Mona, originally a native of Birr, worked in her Dublin pharmacy until the age of 78 and was 92 when she died.
Aine said the family was "lucky" to make it possible for them to fulfil their mother's expressed wish to die at home. "She had a really good life and a really good death, in her own bed, in her own home. You couldn't ask for better than that." 
"I'm not a nurse and I'd never been present at this stage of someone's life before. The nurse was wonderful; from the moment she arrived she could not have been better. We knew she was going to mind our mother from a medical point of view but she also minded us.
"We obviously miss her, but when you feel it couldn't have gone any better that makes a real difference," she said.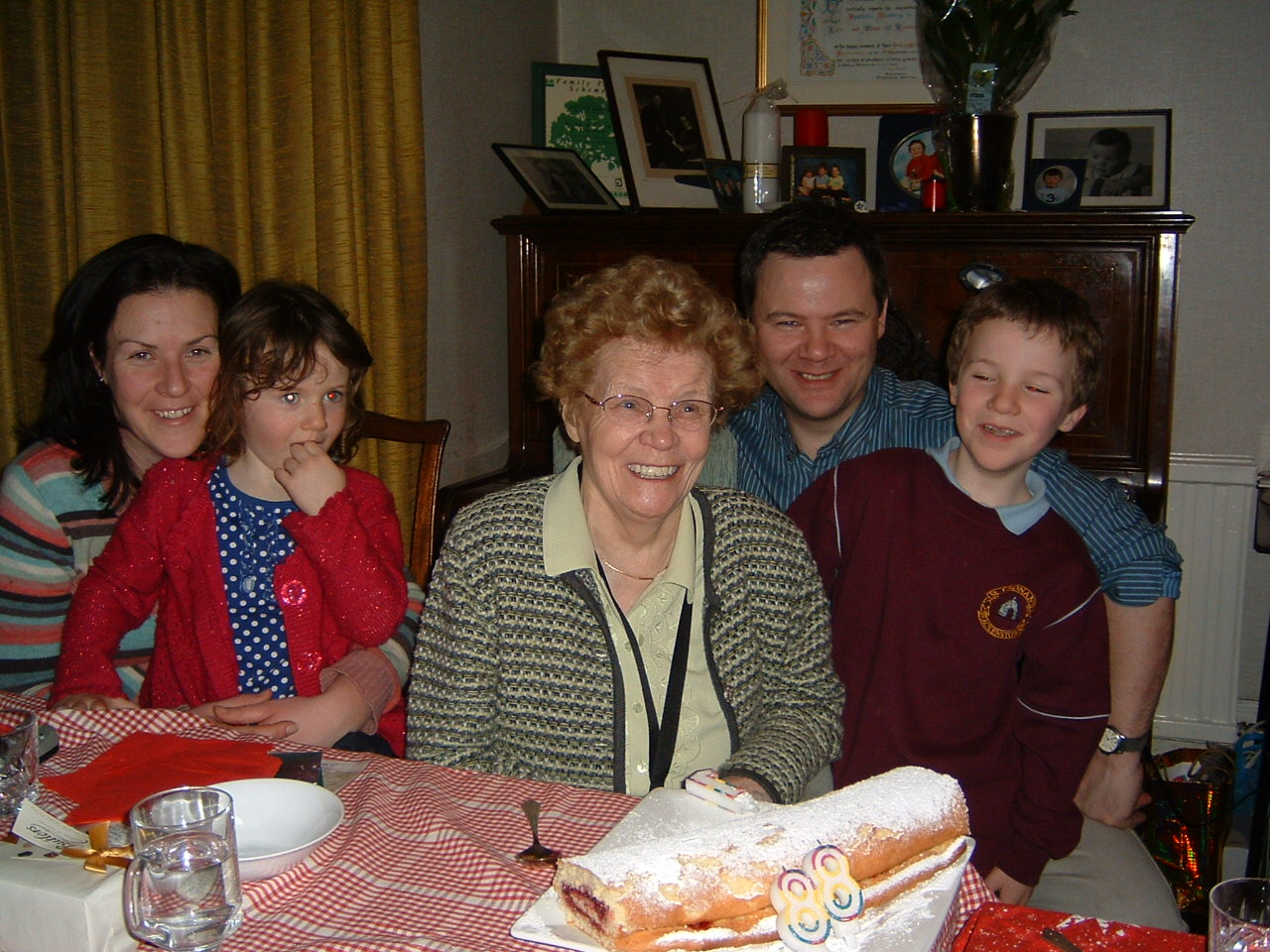 Caption: The late Mona O'Riordan with family. Retired pharmacist and mother of five, Mona died peacefully at home with her daughter Aine by her side helped by the Nurses for Night Care service.
Marie Lynch, IHF Head of Healthcare Programmes, said: "Three quarters of Irish people would like to die at home, according to IHF research but only approximately one in four get to do so. Support from Nurses for Night Care enables people to die at home if that is their wish.  70% of people die from non-cancer illnesses every year such as dementia, heart disease, motor neurone disease, advanced respiratory disease and end stage kidney disease.
Demand for the service grows annually. We provided 100 nights of care when launched the service 11 years ago. That number grew to 2,027 nights in 2016 costing €649,171. Care was delivered in 26 counties across Ireland and we are so very grateful to everyone who donated to make this difference. Referrals are made by the Specialist Palliative Care home care team to us and it is then arranged for a nurse to visit the home," concluded Ms Lynch.
The IHF has an agreement with the Irish Cancer Society to provide the service.
The IHF receives core funding from Pobal from the Department of Housing, Planning, Community and Local Government's Scheme to Support National Organisations 2016-2019.