A dedicated private space for families
Staff in St James's Hospital officially yesterday (November 30th) opened the newly established family facilities in the hospital mortuary.
The refurbishment was funded by a €12,800 grant from the Design and Dignity Grant Scheme of the Irish Hospice Foundation (IHF) and Health Service Executive (HSE). The scheme aims to transform the way hospital spaces are designed for people at end of life. Funding to complete the upgrade of the mortuary facilities was also provided by St James's Hospital.
Approximately 950 deceased patients pass through the mortuary annually. Staff identified the need to create a dedicated space for families coming into the mortuary, a space of comfort and privacy in the times of major distress for bereaved families. The facilities are comprised of a family room that can be used by families and friends who visit the mortuary to view the body of the deceased, meet with the bereavement social worker or chaplain or attend a removal ceremony. The adjacent kitchen facilitates the provision of refreshments by staff to the bereaved.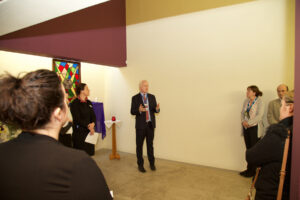 Mr Lorcan Birthistle, Chief Executive, St James's Hospital said, "In our mortuary we are very aware of the importance of a quiet, comfortable space for families to draw breathe after the death of a loved one. This will further improve our hospitals culture regarding end of life care for patients."
Sharon Foley CEO of the IHF commented: "Every year 28,000 people in Ireland die and 43% die in acute hospitals. The Design & Dignity scheme aims to bring design excellence to hospitals where so many people spend their last days. This new facility in St James's Hospital is a sanctuary for families at a very distressing time and will allow them the proper space and privacy they need. I'd like to commend the staff for their vision and commitment to making end of life care a priority.
The family facilities have been operational since the summer and already many families and individuals have directly benefited from this new sanctuary in St James's mortuary. One family member shared their recent experience: "It was such a relief to have the mortuary facilities available to us at this very difficult time. It enabled our family to meet with friends, chat over a cup of tea and to spend very precious time with our loved one. The caring and dedicated staff, particularly Ed, showed empathy, dignity and respect and this was really appreciated."  
To date 20 projects have been funded across the country under the Design & Dignity scheme at a cost of €2m.