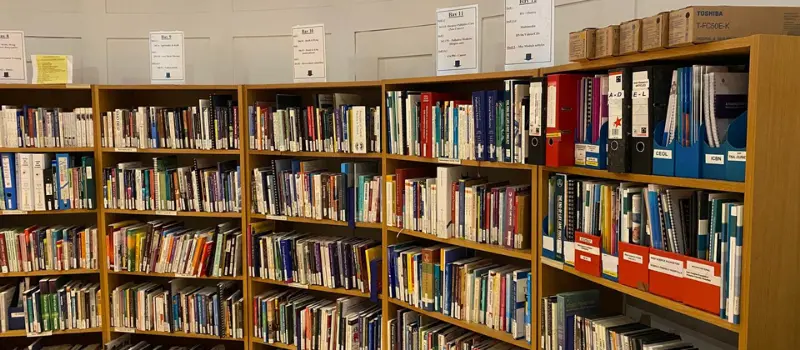 The Therese Brady library and information service was opened in 2003 and is central to the bereavement information and education functions of Irish Hospice Foundation.
The library is named after Thérèse Brady, Director of postgraduate training in clinical psychology at UCD, who developed IHF bereavement services in the late 1980s. On her death, Therese's books on bereavement theory were donated to IHF and the library was developed around this core collection. It is the only specialist library in the country focusing on bereavement, palliative care and end-of-life issues.
Library access
Full access to the library and resources is available to: IHF staff and affiliates; current students on IHF education courses (M Sc Bereavement Studies & Professional Certificate Children & Loss) and alumni of the PC Dip/M Sc Bereavement Studies  
Search our books here
Log in to My Athens
Journals
The library subscribes to a range of specialist journals related to bereavement, palliative and end-of-life care. Print holdings are held in the library and titles are available to access remotely by logging in to your My Athens account.
Can't access your MyAthens account? Visit help with My Athens.
Current course reading lists
MSc in Loss & Bereavement
Module 1 Module 2 Module 3 Module 4 Module 5 Module 6 Module 7 Module 8 Module 9
Professional Certificate in Children & Loss
Module 1 & 2
Visit Lenus The Irish Health Repository
Visit IHF archive
Recommended reading and resources
The IHF librarian has compiled book lists, resources and suggested useful web sites in each of the following areas:

Adolescent Grief
Bereaved by Suicide
Children's grief
Grieving the death of a child
Coping with the death of your same sex partner
Grieving the death of someone close
Living through the death of your partner/spouse
Talking to children about death
The Grieving family
Understanding Grief
When someone you care about is bereaved

Need help?
If you need help searching our resources please contact the librarian.
Email [email protected]