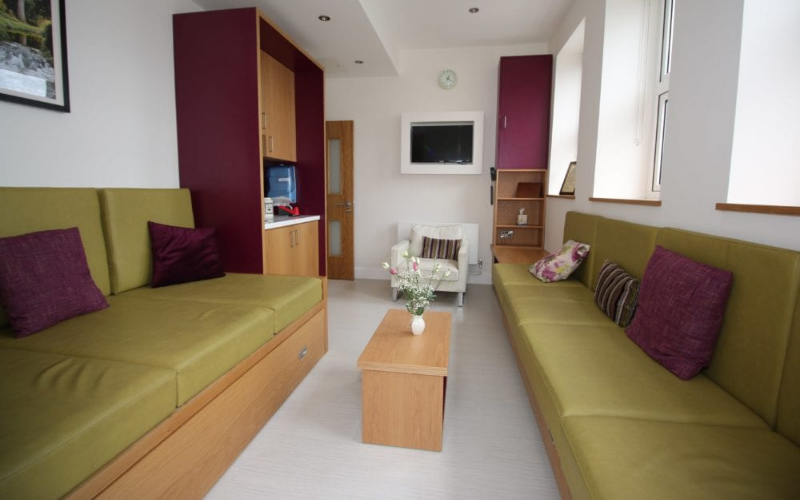 Our Design & Dignity programme turns old and dated hospital spaces into oases of calm where bad news can be broken sensitively or where families can gather in peace and privacy.
The project is grounded in the firm belief that the end of life should be recognised as a time of the most intense human feelings. These feelings should not have to be endured in inappropriate surroundings; a busy corridor, a waiting room or a ward reception area, where others may be chatting and laughing.

A tremendous success to date, over 47 projects across Ireland have already been supported.
Our vision
Our vision is that every hospital in Ireland will have a dignified and comfortable sanctuary to experience the death of a loved one. End-of-life sanctuaries include palliative care suites, family rooms with overnight accommodation, counselling rooms for bereaved families, bereavement suites in emergency department units and family friendly mortuaries.
Design & Dignity is a partnership project of IHF and the HSE, who have now adopted the Design & Dignity guidelines for all new and refurbishment work.
What Design & Dignity does
funds a range of 'exemplar' projects through a formal Grants Scheme and showcases them nationwide.
provides practical architectural support and advice.
fosters a sense of ownership of the hospital environment through engagement with hospital staff in the design process.
Develops Design & Dignity guidelines to enhance the physical environments of hospitals.
produces a range of resources to enable staff to implement the Design & Dignity guidelines.
advocates for the integration and embedding of the Design & Dignity guidelines across the HSE.
Completed projects
Family rooms
"Honestly, I can't describe the benefit of the room. You can see the stress lift from relatives when they come into the room. It has given us all great pride in our work and in our caring for these families"

– Palliative Care Nurse
"It was just lovely that we had somewhere to go that wasn't a hospital ward or room"

– Relative
"The family room is a vital part to running a busy critical care unit….and without it, it would be almost impossible to facilitate families as well as we can"

– Palliative Nurse
Mortuary Renovations
"Life is a journey and we hope that for those who have ended their journey in our hospital that it was compassionate, peaceful and with dignity. We know that our project will act as an exemplar project for future developments in end-of-life care nationally"

– Sandra Day, Chief Executive, Mercy University Hospital
"This building has given us a space that is dignified, that is bright, that is airy, that's embracing of all religions and none"

– Margaret McKiernan, Director of Nursing, Mercy University Hospital
Viewing suites
'Before we had these rooms, we'd have to bring families from the room where we break the bad news to them on to the corridor'

– Cliona O'Beirne, Clinical Nurse Manager, St James Hospital
Waiting areas
Apply for a Design & Dignity grant
Visit our sister charity Rosabel's Rooms which develops bereavement suites in hospital emergency departments around Ireland, providing comfort and dignity for bereaved parents and families following the death of a child.