The seeds sewn in childhood throw down deep roots. And one special Seed Grant project we supported with Down Syndrome Tipperary is doing just that. In 2022, this voluntary parent-led organisation used their Grant to commission Emily Matthews, a drama education facilitator, to trial 'Acting Out'. This is a unique person-centred drama programme specifically designed to encourage people with Down Syndrome (DS) aged between 7 and 25 to communicate feelings around loss. This could be the loss of a family pet, siblings leaving the family home, or the death of a loved one.
As the expressive language of people with DS is often way behind that of their peers, they frequently get stuck and struggle to find words, especially when experiencing any kind of loss, and often occurs at a time of transition. This lack of expression can be extremely damaging and can result in a build-up of frustration, regression in speech, lack of social engagement, and depression. You can imagine how frustrating all that is for parents / carers, especially when trying to help a child make sense of loss. But through play, games, and exercises, Emily guided children with DS in developing skills for expressing their feelings around loss. As Emily told us:
"There's a little boy in the group who lost a parent. Through 'Acting Out', he was able to see there were others like him who felt sorrow… that it was ok to be sad and ok to be happy."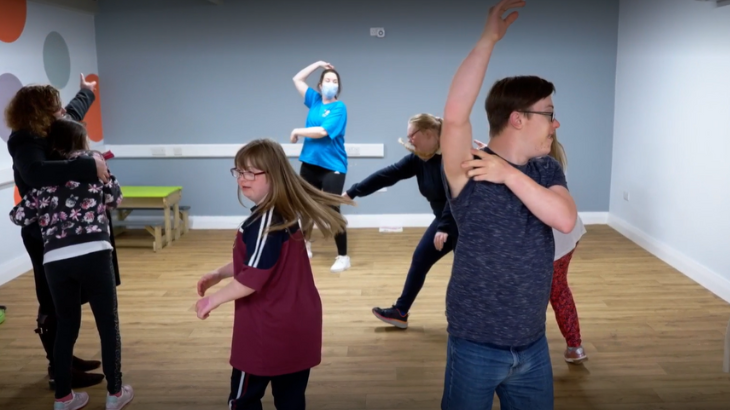 We wanted to use the experience of trialling 'Acting Out' by continuing to work with DST and Emily in refining this programme further and use the learnings to expand to other groups and regions. Once again generously supported by Creative Ireland, we were able to do just that during 2023. Initially, we engaged with sector specialist groups, including Arts Disability Ireland and Down Syndrome Ireland, to determine our scope and clarify participation. We also engaged with speech, play, occupational, and grief support therapists, to explore sustainability, adaptability, and ways to engage with similar groups.  
This extended programme ran for 12 weeks from April 2023. In continuous consultation with all involved parents, therapists, and other experts during this period, Emily guided the same groups of children to further explore loss through imaginary play and drama with the aim of helping them learn more about visualising, processing, and expressing feelings of loss.  As before, delivery was underpinned by rhythm, repetition, and imitation. Emotions were creatively explored through storytelling using books such as 'The Invisible String', mime, puppetry, improvisation, song, dance, and active play. Difficult feelings such as anger, anxiety, and sadness, as well as feelings of joy and happiness, were identified and investigated. Creating and promoting opportunities to talk and express feelings was also actively encouraged.
The programme culminated with a conference in July hosted by DST. Among others , it was attended by parents, therapists, Down Syndrome Ireland, our own Maura Keating of The Irish Childhood Bereavement Network, where we reflected on what had been learned about exploring loss through theatre with people with limited access to expressive language. But more than this, much more, we shared the benefits of teaching children with DS the skills to better understand and articulate their feelings around loss. These firmly rooted skills are ones they will be able to draw on in times of sorrow for a lifetime. For example:
"One little girl said, 'you have to be sad when someone dies,' so we explored that. The group chatted about the happy things they did with the one they'd lost, and they concluded that you CAN be happy when you think of them. Some days will be sad, but it's ok if you're not sad all the time. That they were able to come to that together…that's the value of this work!"
Our aim going forward is to expand this programme further by building a template and share learnings for this approach. We intend doing this by developing a pack, which can be used by other networks, groups, and organisations nationwide, who can then learn from DST's 'Acting Out' programme, adapt it, and apply this approach and learning to their own specific needs.
Watch these short clips for examples: