In an age of mass consumerism, is there a need to examine our contemporary rituals for what happens to our own or a loved one's possessions as we approach end-of-life or afterwards?
Since time immemorial, all societies have engaged in rituals regarding what happens to a loved one's possessions after they die. Ancient Celts buried their deceased with prized belongings; Vikings honoured their dead with 'grave goods'. But in an age of mass consumerism, is there a need to examine our contemporary rituals for what happens to our own or a loved one's possessions as we approach end-of-life or afterwards? That is the question social researcher Sophie Reynolds and artist Louise Gaffney wanted to explore by facilitating a series a workshops provocatively entitled: 'Is Death a Dirty Word?'
Over several months they engaged with a diverse group of participants of disparate ages willing to undertake some spring cleaning of their own and / or had been tasked with sorting through a deceased loved one's possessions. The ambition of their collaborative / peer support approach was to transform what are frequently invisible and isolating experiences, into ones centred on compassion and support, along with potentially opening up conversations about death generally. As Sophie told us:
"Participants were positively encouraged to consider what may happen to their items now or far into the future when they are no longer around. Too often we ignore this aspect of dying and death, leaving already grieving next of kin to manage a lifetime's worth of items."
Participants were introduced to a range of creative concepts and collaborative art practices, such as the Swedish death cleaning and storytelling to prompt conversations around one's own mortality and intentions for possessions in preparation for end-of-life, both within the workshops, and elsewhere with family and friends. Other concepts such as circular economy and sustainability were introducing. Using documentary practices and visual communication, each workshop participant was encouraged to examine the environmental benefits derived from gifting, donating, selling and/or repairing forgotten or unwanted items to avoid them ending up as waste. Doing so involved considering and evaluating their own personal possessions, or ones they inherited, in order to assess meaning, intention and worth.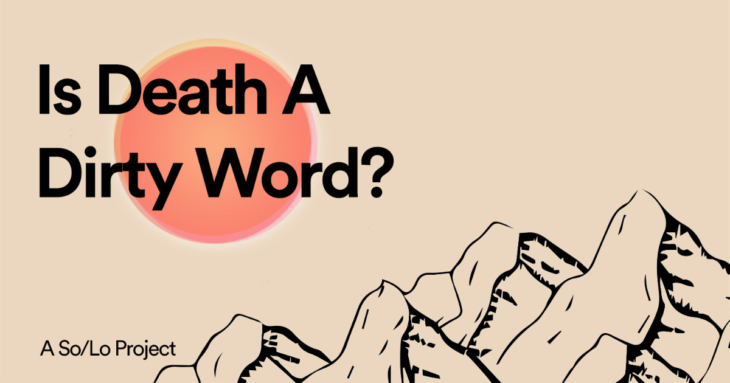 "Creative processes can be an incredibly powerful mechanism to explore and make sense of complex and sensitive topics that are often difficult to speak about in ordinary circumstances. Without sufficient space or time to store or sort through items, many items can end up being discarded and sent to landfill."
At one workshop an older participant (aged 75+) remarked that while friends would talk openly about coping with the death of a spouse, they would avoid confronting the realities of their own inevitable demise. She said she found what she was learning at these workshops was a helpful way to begin engaging with peers in healthy dialogue about this. Her perspective was echoed by others in the group who also noted the project had helped them broach the topics of death, dying, and remembrance of deceased loved ones with their families and friends.
Many participants expressed wishing they'd had a process like 'death cleaning' to engage in following the death of a loved one and / or needing to organise their own lifetime's worth of possessions, such as when down-sizing their home. It was also noted workshops such as these can offer a helpful and cathartic way to help individuals in managing any guilt and grief associated with giving away, donating, and / or selling items they can no longer store or use.
"Such group fora can give people permission to do away with some of this excessive abundance, and as the creative outputs of the participants have highlighted so well, appropriate creative prompts (in this case underpinned by circularity thinking) can help people channel some of this grief in creative renewal, release and remembrance."
And as one participant reported:
"I was delighted to get prompts from the sessions – it kept my husband's memory more alive each time I attended."
This fascinating journey culminated with a Second Life Sale Day held at Bayside Community Centre in Sutton, Dublin, last April. It was attended by workshop participants and members of the public where pre-loved items were given a second life with a new owner. These included clothing, shoes, accessories, towels, linen, crockery, cutlery, glassware, books, toys, collectables, antiques, and … well, you get the drift.
Many Irish Hospice Foundation staff also attended, including our Chair, Jean Callan, who said:
"What I love about this is that it brings the circular economy and the whole association of items and our materialism together, along with that whole issue of dying, death, and bereavement."
Valerie Smith, our Public Engagement Officer, also attended these workshops. You can read more about her fascinating experience on LinkedIn.
About Sophie Reynolds
Sophie Reynolds is a social impact researcher with expertise in circular economy, social innovation, and participatory design processes. Much of her work is concerned with the socio-economic and environmental value that can be unlocked from wasted items and materials. In 2022, in partnership with Munster Technological University, Sophie was commissioned by North-West Kerry Development Partnership to undertake a participatory research project exploring how wasted wool from Dingle Peninsula could be used to develop a social enterprise aimed at supporting farmers and integrating migrants in the local area. Sophie has experience delivering sustainability and social impact projects for Government bodies, charities, social impact organisations, and local communities – nationally and internationally.
About Louise Gaffney
Louise Gaffney is a multidisciplinary artist working with film, sound, and photography. She also worked professionally for a number of years as a director and editor. In 2018, Louise worked as a cinematographer on a short documentary 'For When I Die' which explores one woman's outlook on what a good life and a good death means to her. This documentary has been extensively screened at film festivals in Ireland and abroad. Louise is a lecturer in the National College of Art and Design in the Communication Design Department, teaching predominantly on the Moving Image Design programme. Her research is practice-based and explores themes surrounding creative future-proofing in response to climate and societal issues and developing visual tools to inspire more favourable future narratives.