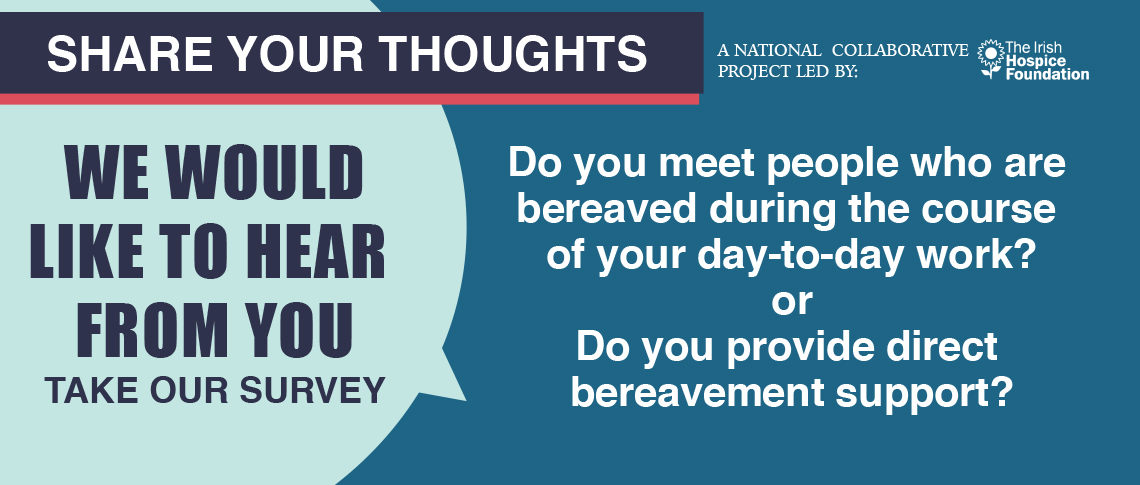 The 'Enhancing Adult Bereavement Care across Ireland' report was published in 20181and identified a common set of core concerns among those who encounter bereaved people as part of their work. The lack of a common framework for bereavement care in Ireland was identified as a priority area for attention by the report's project advisory committee (PAC)2.
After a national meeting with bereavement stakeholders (National Bereavement Forum 2018), a short term project committee was set up in September 2018 to develop a framework. The committee members were from organisations represented at the Forum and included representatives from throughout the country and all levels of service provision in both the public and voluntary sectors3.
This has been a collaborative process which has been project managed by the Irish Hospice Foundation (supported by the Health Service Executive).
The framework will be finalised through this consultation process.
This framework places the needs of bereaved people at the centre,and sets out to clarify the appropriate support/services and knowledge/skills required to meet basic through to complex bereavement needs.
Who should complete this survey?
Organisations and individuals who provide bereavement care as the main part of their role, a substantial part of their role or a minor part of their role. This may include:
Those who meet people who are bereaved in their day-to-day work(e.g. General Practitioners, Citizen Information Service, Department of Social Protection etc.)
Those who provide direct bereavement supportto identify and respond appropriately to adults who have experienced a loss (ranging from e.g. from information, group or individual support, counselling to mental health supports).
A wide range of professionals, for example:
Academics
Chaplains
Counsellors/ Psychiatrists/ Psychologists/ Psychotherapists
Emergency responders
Funeral directors/staff
Hospitals/ Hospices/ Nursing Home staff
Information Service staff/volunteers (e.g. Citizen Information Services)
Nursing/ Healthcare Assistants / Medicine/ GP's
Social workers
State departments – mental health, social protection etc.
Volunteers and staff providing direct and indirect support to those who are bereaved
Please read the GUIDE describing this framework prior to completing the survey.
Please feel free to circulate this website link to any individual or organisation that you feel would be interested in taking part in this national consultation.
Consultation open until Saturday, 30th November 2019
If any questions please contact Amanda at [email protected]
[1]https://hospicefoundation.ie/wp-content/uploads/2018/07/Enhancing-Adult-Bereavement-Care-Across-Ireland_REPORT.pdf
2Project Advisory Committee 2018 (consisted of organisations represented at the Forum 2018): Barretstown, Bethany Bereavement Support Service, FirstLight, Mater Misericordiae University Hospital, Pieta House, The Irish Hospice Foundation.
3Project Advisory Committee 2019: Barretstown, Bethany Bereavement Support, Citizen Information Service, Department of Health (Mental Health), Feileacain, FirstLight, Galway University Hospitals, HSE (Mental Health), MOCT Consultancy and Training, Pieta House, St Francis Hospice, Trinity College Dublin, The Irish Hospice Foundation.