How Your Kindness Gives Grieving Parents the Precious Gift of Time
'Godsend', 'peace of mind', 'unbelievable relief' – these are words used by mothers and fathers to describe the help you provided during the very worst moments of their lives.
Nothing can erase the pain of losing a child. But your thoughtful support gives parents lost in grief, time and room to heal.
Gratitude isn't the first emotion you think of when you're talking about grieving parents – gratitude to you. But when you know about the incredible work you support through 'Rosabel's Room to Heal' fund, you'll understand what help means to parents struggling with the grief that comes with losing a child.
Sabrina lost her baby girl, Skye, when she was only 20 weeks old. Even though Skye was born with an underlying heart condition, her death was unexpected. On top of the devastating loss of her baby, Sabrina was struggling  financially. And that's where your kindness stepped in.
I'm so grateful for the help we received, without it I wouldn't have been able to pay my mortgage or our other bills. We didn't know what to do or who to ask for help. Your grant helped me so much when my little girl died.
Your Kindness Gives 'Room-to-Heal'
Rosabel was just 16 months old when she died suddenly in her cot. You can imagine the devastation her death caused her family. But in 2018, her parents, Suzanne McClean and Gary Monroe, teamed up with Irish Hospice Foundation to start the 'Rosabel's Room-to-Heal' fund. Since then, thanks to your generosity, the fund has supported 190 families down the difficult path after losing a child. The grant gives parents grappling with the vastness of their grief support to help with funeral costs and breathing space when they are unable to work. Arabella, who received a grant after the loss of her daughter, Brianna, explains it like this:
As well as the grief, you've got the fear and panic about how you will make ends meet… I didn't realise Brianna's Carers Allowance would be stopped immediately. Knowing that help was on the way lifted some of that worry. It meant that when Brianna came home after her autopsy, I could cherish every last second that I had at home with her, even though she had died. I'm forever grateful for that.
Even as You Sleep, Your Kindness Won't Rest
Tom was 52 when he was diagnosed with motor neurone disease. His heartbroken wife Helen and his two grown-up children were by his side every step of the way. Tom's family were his whole world. But for your generosity, says Helen, she couldn't have fulfilled Tom's wish to die at home. 
Without Nurses for Night Care, I wouldn't have been able to cope. They were brilliant. Having a Nurse for Night Care there meant Tom could be at home right to the end, just like he wanted.
Requests for help for a Nurse for Night Care are at an all-time high. A gift of €42 could fund an hour of precious care with a Nurse for Night Care, and bring untold relief to a family whose time together is short. Please, give if you can.
From Little Seeds Grow Mighty Trees
Through your kind support of special projects like 'Acting Out' in Tipperary, you're giving children with Down Syndrome a way to understand and process their feelings of grief after losing someone they love.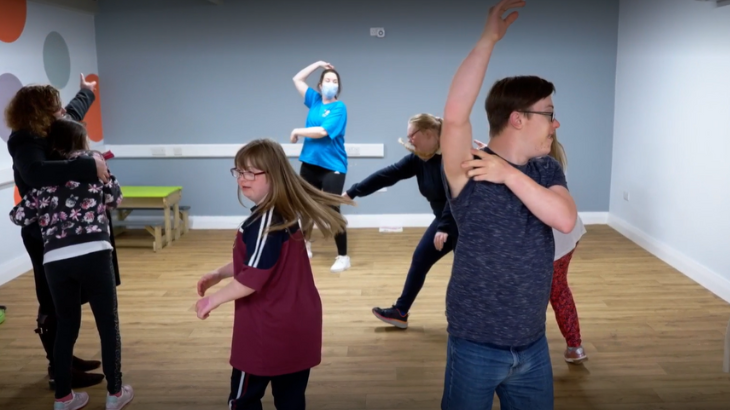 People with Down Syndrome (DS) often find it hard to express their feelings. You can imagine how frustrating that is, especially when you're trying to make sense of the loss of someone you love. But through play, games and exercises, 'Acting Out' workshop leader, Emily, is helping children with DS in Tipperary develop skills they'll be able to draw on in times of sorrow. Through 'Seed Grants', in collaboration with the Creative Ireland Programme, your support helps to fund special projects like this one across Ireland.
There's a little boy in the group who lost a parent. Through the workshops, he was able to see there were others like him who felt grief… that it was ok to be sad and ok to be happy.
'One little girl said, 'you have to be sad when someone dies,' so we explored that. The group chatted about the happy things they did with the one they'd lost, and they concluded you can be happy when you think of them. Some days will be sad, but it's ok if you're not sad all the time. That they were able to come to that together. That's the value of this work.'
Past Issues
Read past issues of Your Irish Hospice Foundation newsletters in the archive
Subscribe to Your Irish Hospice Foundation
Subscribe to Your Irish Hospice Foundation to receive the printed version of our bi-annual newsletter in the post.